Hey beautiful people,
I'm a parent who practices unschooling and also a PhD student at the University of Malaya, Malaysia, conducting my research entitled "Interplay of Internal and External Structures in Unschooling Learners' Self-Directed Learning (SDL) Activities".
Are you an unschooling teenager or enrolled in a self-directed learning school/centre? I would like to invite you to participate in my study, which aims to describe your SDL experiences and how you manage your SDL activities. Your unique perspective and insights can contribute to a better understanding of SDL and shed light on the power of unschooling!
This study seeks to gather firsthand accounts from unschooling teenagers who have embraced the freedom and autonomy of SDL. Through qualitative interviews, I aim to delve into your educational journey, uncover the strategies that have supported your learning, and identify the challenges and opportunities you have encountered.
Participation details:
This study is open to unschooling / SDL teenagers aged between 14-17.
Your participation will remain completely confidential. Any data collected will be anonymized and used solely for research purposes.
The study will involve a combination of online interviews that can be completed at your convenience.
You can visit: SDL Research Project - Recruiting Participants for detailed information.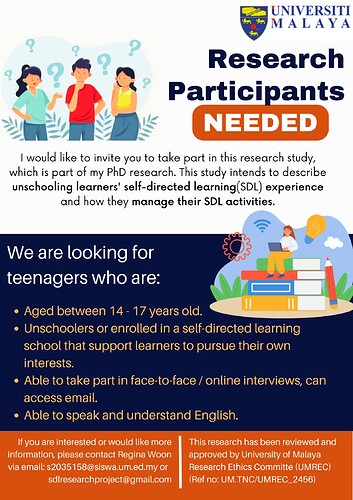 If you are interested in participating or have any questions about the study, please contact me: sdlresearchproject@gmail.com. I will provide you with further details, including the informed consent form and study materials. Your enthusiasm and willingness to share your experiences are greatly appreciated!
By participating, you can play an active role in advancing research on unschooling and contribute to a growing body of knowledge. I look forward to hearing from you and learning from your remarkable educational journeys!
Thank you so much!!